This is the first time in my life during my stay in NZ, I won Lotto and for 800 bucks. That's crazy!

I and My wife normally check out our Lotto numbers on TV on Saturday evening 8 pm. We budget 5 bucks for Lotto tickets every month. Because I bought the ticket by myself when I went for grocery shopping alone last week, my wife didn't notice that we have a Lotto ticket and we didn't check it out on TV . Since Kezia's born, I do the grocery shopping alone.

This afternoon, I went to Pak 'n Save to buy 1 kg of beef schnitzel as we were planning to cook "rendang schnitzel" for dinner. On the way out, I just dropped in to the Lotto shop at the entrance. Actually, I never do this way to check out the numbers.

I was completely and instantly surprised for this ordinary and unexpected moment.

Back home, I check out the number again on the NZ lotteries website.
Yes, it's true. My numbers are 6 13 19 25 34 35 while the winning numbers are 13 19 25 29 34 35. So that, the numbers matched are 13 19 25 34 35 and I won for Division 3.

There was no computer processing in getting these numbers. There was no Monte Carlo Simulation as well. There was no Excel random value processing. Even no statistical calculation. I just got the numbers just like that. Whooost, came up in my mind!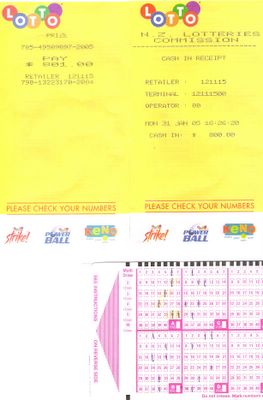 800 bucks